This time XRP is much weaker. The counter-movement in the overall market that started last week was much weaker in this case. The so far so strong outperformer now takes the position of the underperformer. Currently, the XRP price is trading again below the downward trend from April 2018. The confirmed buy signal from an indicator perspective has been active since 0.50 US dollars.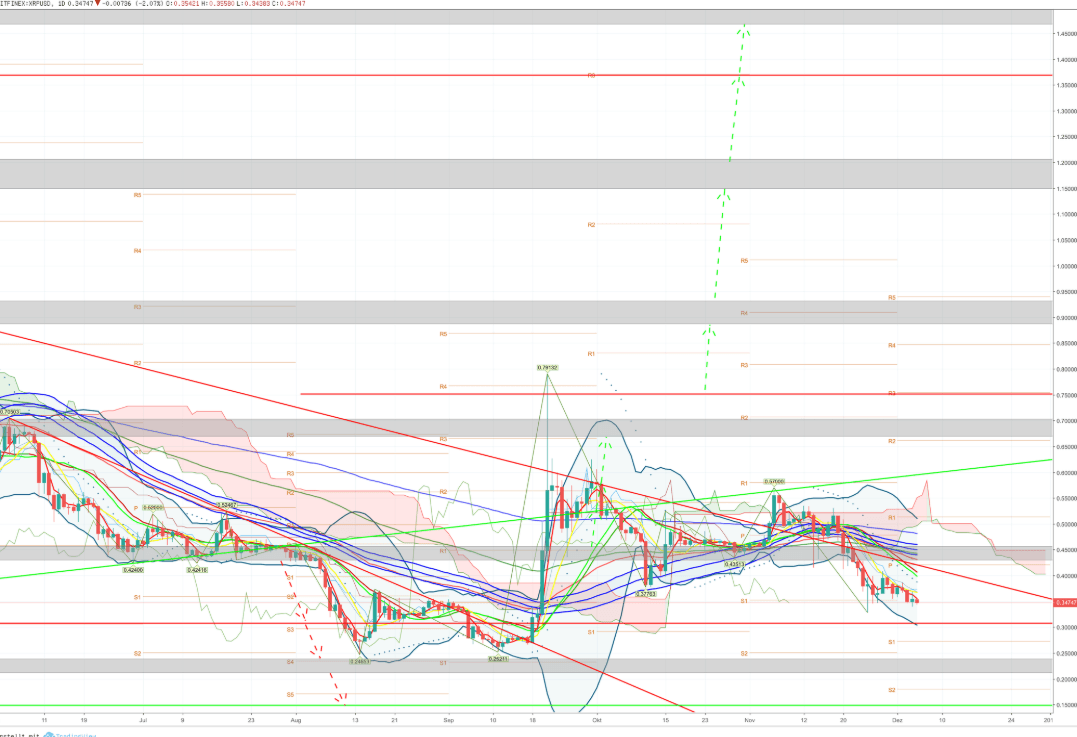 Bullish variant:
In the range around 0.33 US Dollar, XRP can complete a bottom. The target on the underside at 0.31 USD remains open. The XRP price starts the downtrend from April 2018. It is currently trading at 0.34 US dollars – with a downward trend. A further rise to 0.43 US dollars is accompanied by reaching the resistance zone. This is outbid with rates above 0.46 US dollars. The next target is the broken upward trend from June 2018, which is currently running at 0.62 US dollars and rising.
Only a price increase above 0.75 US dollars activates the overriding upward targets:
0.89 US dollar

1.15 US dollar

1.37 US dollar

Bearish variant:
The various selling signals in different time units are still having an effect. The attempt to bottom out at 0.33 US dollars fails. The downward movement continues below 0.31 US dollars. The targets on the underside are as follows:
0.24 US dollar

0.15 US dollar
Price action aside, XRP got another adoption bump
R3, the world's leading developer of enterprise blockchain solutions for business, today launched its new Corda Settler, an application purpose-built to allow for payment obligations raised on the Corda blockchain platform to be made through any of the world's payment systems, both traditional and blockchain-based. XRP is the first globally recognized cryptocurrency to be supported by the Settler, bringing the Corda and XRP ecosystems into closer alignment.
When a payment obligation arises on Corda during the course of business, one party now has the option to request settlement using XRP.  The other party can be notified that settlement in XRP has been requested and that they must instruct a payment to the required address before the specified deadline. Once an oracle service validates the payment has been made then both parties can treat the obligation as settled.
Why is this important
This post explains it:
"This also further supports the position that XRP isn't a security as it is being used and developed for by multiple companies and R3 now holds a considerable amount and it may start to hold more."
And this one as well:
"A huge competitor of XRP just became one of it's biggest proponents. I'd say that's awesome. Now you've got Ripple and R3 trying to sell XRP to banks, businesses, etc. And simultaneously competing against each other. And competition tends to breed rapid growth."
All R3 partners are now able to use XRP and the list of their partners is massive:




-mdash; Javi Gonzalez (@XRP_Spain_Army) December 5, 2018
https://platform.twitter.com/widgets.js
The post Ripple's XRP price stumbles but adoption slopes up sharply. R3 adopting it confirms XRP is not a security? appeared first on CaptainAltcoin.
Full article