During the "civil dialogue" in the German-Dutch Army Corps in Munster Scholz said: " I doubt if they currently have a perspective as a currency model". He compared cryptocurrencies to tulipomania in the Netherlands in the seventeenth century, saying that "there is a great danger that it will be such a tulip inflation". Scholz said that the necessary computer processes for the mass implementation of cryptocurrencies are so expensive and energy-intensive that they effectively prevent this process. However, he does not say that the same situation will take place in 20 to 30 years. According to Scholz, cryptocurrencies should be closely monitored by regulators because they can be used to finance terrorism, money laundering or other criminal activities. "We do not believe that they currently have significant economic significance" - he added at the end of his speech.
European legislators have met in the past few weeks to discuss their concerns about cryptocurrencies and potential remedies for problems related to digital assets. On September 4, MEPs met to discuss regulations on initial monetary offers (ICO) that they said were very interesting and promising to raise capital, but they require more regulatory control in the eyes of many European legislators. At the last meeting of the Economic and Financial Affairs Council in Vienna, the Vice-President of the European Commission, Valdis Dombrovskis, stated that cryptography requires further regulation. While he noticed that the crypto "will stay with us permanently," Dombrovsksis emphasized that the European Union will focus on the development of the classification of cryptographic resources and regulatory mapping.
Let"s now take a look at the Bitcoin technical picture at the H4 time frame. Very interesting candle appeared recently at the market, that looks like an attempt of the market to break to the downside and to the upside at the same time. Nevertheless, the price stayed at the virtually the same level as it was before, that is around $6,350. The price is still below the weekly pivot at the level of $6,401 and below the black internal trend line resistance as well. The key technical support is still unbroken at the level of $6,067.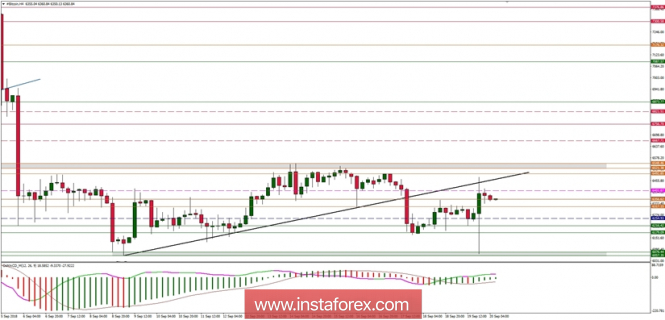 The material has been provided by InstaForex Company -
www.instaforex.com
Click here to read the full article...