Recently global investors have seen an interesting situation on the market, when the price of Bitcoin, the largest cryptocurrency, fell from 4,050 to 3,800 dollars in a few minutes. Correction with every hour is getting worse.
The whole move down erase the profits from January 7, when the BTC / USD, make the same move, but in the opposite direction. Bitcoin remains at + 11% compared to the previous month and looking further back, its price remains lower by more than 1/3 compared to three months.
In the social media, commentators speculated on why the Monday profits disappeared and the theories seem to favor moving on the stock exchanges.
Despite falling below $ 4,000, BTC/USD remains well above the worst scenario forecasted by analysts such as Tone Vays, which warned that Bitcoin in hand against the dollar, could fall to $ 1,300 or even lower. Now, the focus is on 2019 and potential slow preparation for new price records.
On Twitter, an account named planB suggested that the Bitcoin price would keep the 200-day side trend this year and then increase to $ 100,000 in 2021. By half time in May 2020, Bitcoin will cost around $ 8,000.
Another analyst and shareholder of Bitcoinist Filbfilb, additionally paid attention to clear support lines at prices of 3,600 and 3,100 dollars: "If it will be dumped at this level, we reaffirm the view that we will again test the price of $ 3,100".
In the meantime, the altcoins continue to follow Bitcoin and react to its movements. At this moment, Bitcoin already costs 3,595 dollars and the local low was made just under the 61% Fibo at 3,470 USD.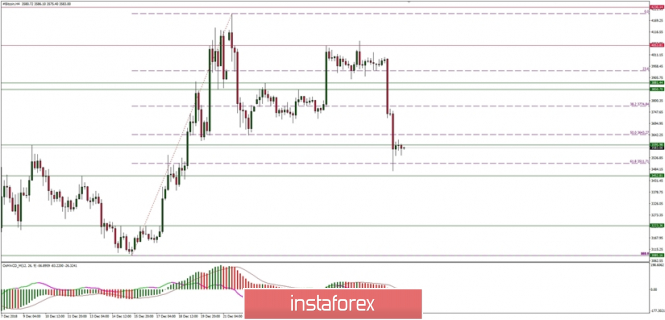 The material has been provided by InstaForex Company -
www.instaforex.com
Full article